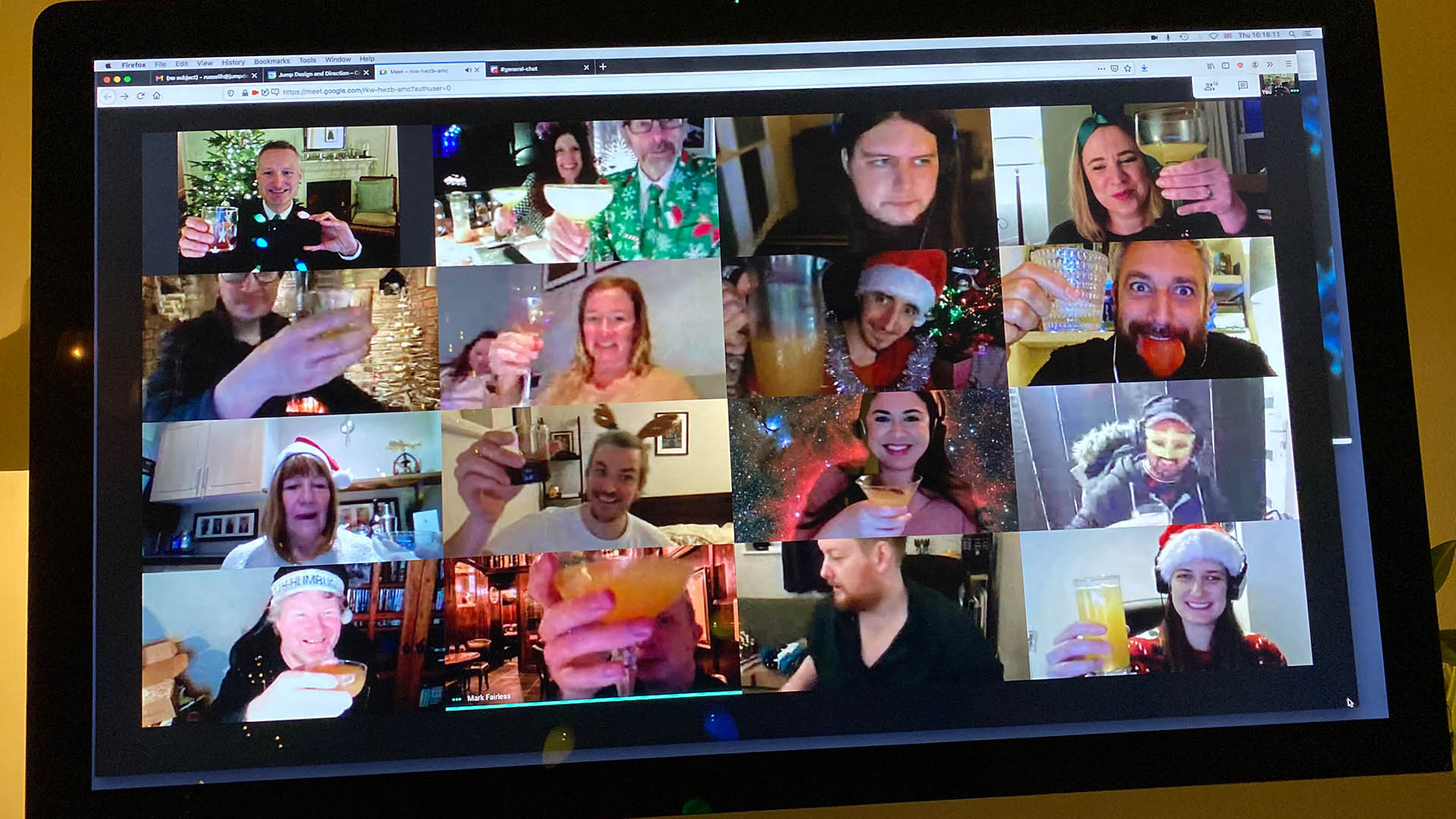 December 11, 2020
The Jump Christmas Party 2020
The Jump Christmas Party was unsurprisingly held online this year. 2020 has thrown up many challenges and one of them is definitely how to keep a strong fun company culture going when you're not in the same room together. We have a fantastic team at Jump, and not being able to sit round a table together at Christmas and celebrate a year's hard work is tough.
But …. this might have ended up being one of our best ever Christmas parties! Maybe because we miss each other so much, it meant even more to us all this year.
To kick off the event we sent everybody a cocktail making kit from Cocktail Porter. With plenty of ice already standing by, everyone's first mission on the call was to make themselves a little party-starter. Most people opted for the very popular Winter Spiced Pornstar Martini kit. Others included Whisky Highballs, Pumpkin Spiced Martinis, Gingerbread Espresso Martinis and a Noel Negroni.
But we're not daft … so plenty of alcohol soaking feasting nibbles were provided too. Everyone received a beautifully curated festive hamper from Grazing Social. Delicious.
First event was the 'Great-ish Jump Christmas Bake Off Gingerbread House Making Competition', which is almost as big a mouthful as all the gingerbread!  You can read a full report and check out people's entries here.
Next up we invited everyone to share a Christmas story – whether it was a funny family tradition or a special memory from childhood. It was rather lovely to all sit and hear the varied tales which included…
Being allowed to sleep on a mattress in the hallway to try and see Santa.
Christmas day morning swims in the sea.
Making giant snowballs.
An amazing number of Christmas desserts baked up one year.
Of course no Jump Christmas Party is complete without Quizmasters Sam and Callum testing everyone's festive knowledge.  There is a strong chance that the cocktails might have affected people's brainpower, as the questions seemed rather tough this year. But Art Director Mr Lee Jacobs had no problems and came out Quiz Champ on the night.
We just had time to squeeze in Secret Santa before bedtime. We've discovered trying to send something anonymously on Amazon is not as easy as you think.
Of course one bonus of the Christmas Party being online during a pandemic is that you just have to walk upstairs to bed at the end of the evening. No hunting for taxis, or late night train journeys with someone eating a stinky kabab opposite. Maybe next year!
Merry Christmas everyone and of course a big thank you to the amazing Jump team for all the hard work this year …. in fact PARTICULARLY THIS YEAR!!
x