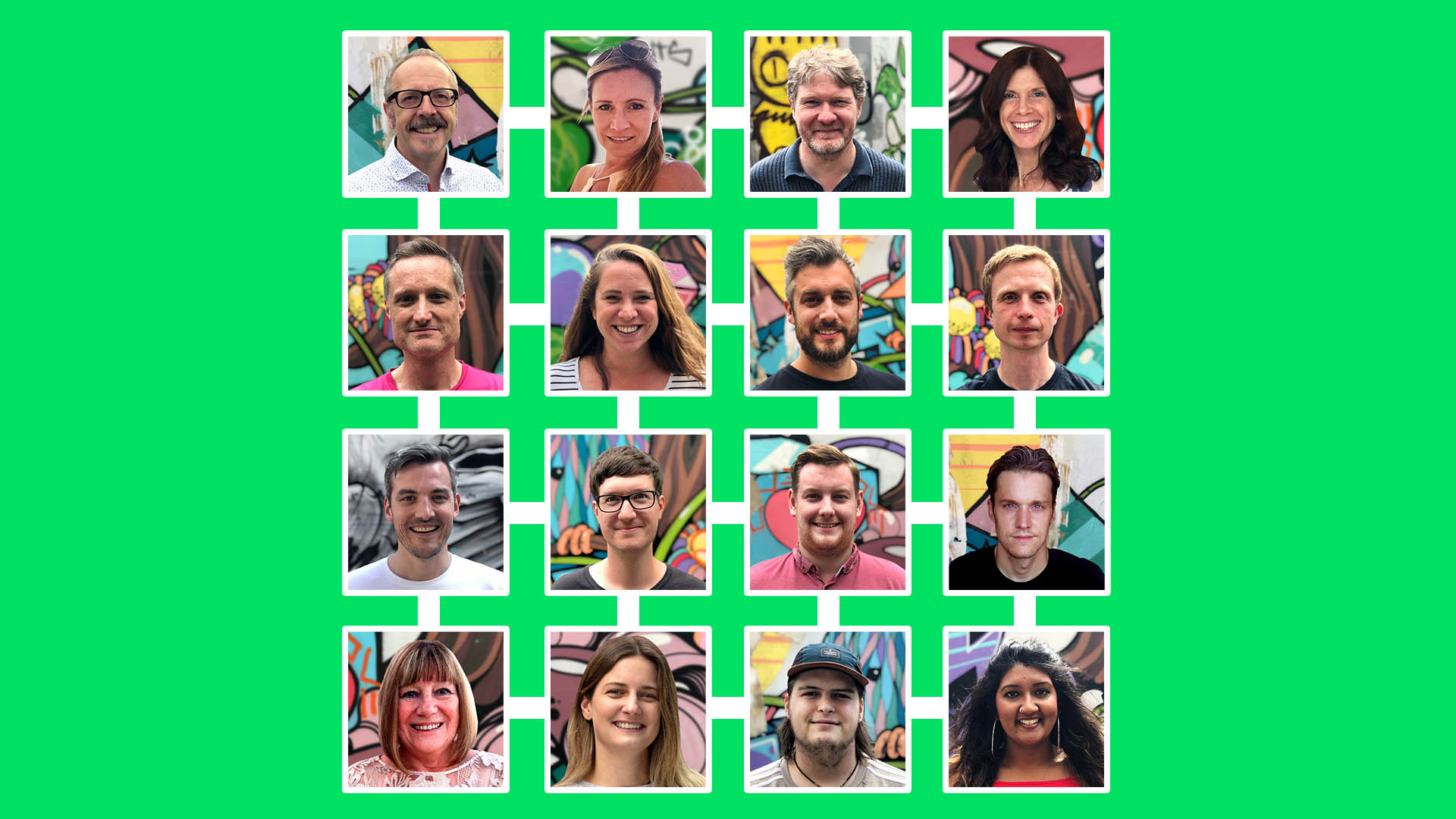 November 22, 2021
Jump is now a full-time, fully remote-working company
Jump is now committed to being a permanent fully remote-working company.
The office in Tabernacle Street, which was our home for 13 years has been sold. Although it was slightly sad to say goodbye to our old Shoreditch base, we are very excited about our new business model and the flexibility and benefits we believe everyone in the company will gain.
In this article we wanted to give a little insight into how we are now set up to work.
We also want to assure all of our clients that working remotely does not affect our work flow or quality of communication on a project. The last two years have proved it to be a huge success.
How did we come to this decision?
There was a point in the first lockdown when we realised everything was running very smoothly. We were super busy and the work was getting done very efficiently. Everyone was communicating really well, possibly even better than when we were all in the same room.
We dived into a lot of research about working from home. One company we learned a lot from was Articulate Marketing, who have been working remotely for nearly 20 years. They were well ahead of the pandemic! We highly recommend reading their Remote Working Policy for anyone considering a permanent change.
As it became apparent the pandemic was going to last a long while, we opened up talks with our team both individually and as a group. We wanted to know if they had everything they needed to work comfortably and safely. How were they finding working from home emotionally? Was it something they would consider long term? And how would they feel if Jump no longer had an office? We didn't know how long we were going to be in lockdown but we wanted to start picturing what a new business model could look like beyond it.
The overwhelming majority feedback was that people were very happy working remotely and appreciating the benefits, so long as once we came out of the pandemic restrictions there was a way for us all to meet up in real life regularly. We all wanted this in order to maintain a strong company culture.
What are some of the benefits?
Get to spend more time with family.
Gives more opportunity to save money.
No more commutes on packed trains, tubes and buses .. and did anyone else notice they had a lot less colds and bugs because of it? Commuting is a drain on people's time, energy and money.
More flexibility with work hours. Those trips to the dentist or garage to the car serviced are much easier to fit in.
From a business point of view we can also cast our net wider when looking to bring new members into the team. Example – One of our fabulous staff lives in Birmingham. We can draw on the best talent from all over the country (or world!) for staff, not just those that live near.
Staff welfare:
Jump financially assists staff setting up their home office (purchasing desks, chairs and monitor stands etc) and we also contribute to people's domestic utility bills.
We have a weekly Monday morning meeting that not only reminds everyone what they are working on that week, but also gives a good opportunity for everyone to touch base and check in with each other.
If required Jump pays to make sure that all staff have the maximum broadband connection possible in their area.
How do we maintain company culture?
We have introduced regular meetups every six weeks which we call JumpDays. These are now a really important part of making this business model work for everyone. The aim of the sessions is to bond, inspire, learn and have fun.
We had our first meetup in October at the Design Museum which you can read about here. We encourage all the team to suggest ideas for what we can do on JumpDays. The activity will change each time to appeal to everyone's different tastes. They could be cultural, creative, physical, educational but always hopefully entertaining.
We also still run online weekly quizzes, poker nights and for birthdays everyone receives a (normally bottle shaped) gift from Jump in exchange for completing a Taskmaster challenge.
What is our technical setup?
We use Discord as the main platform for daily communication. Effectively this is the new Jump office.
It's super easy to speak with anyone in the company at a click of a button or to have written conversations. Every project has its own channel and messenger thread. If a person (or everyone) is tagged in a message they get an instant alert keeping communication fast and efficient. The team can easily check out what each other are up to and offer support or share ideas. We have always been a very open, collaborative group and this is still possible. There are channels dedicated to office chat such as Inspiration, Exercise, Quizzes and of course C4 Bake-Off!
We now use Dropbox which is a safe and secure, Cloud-based workspace. It has unlimited storage and all work is automatically backed up. Any of our work files can be accessed by any member of staff, at any time. Dropbox cleverly synchronises between them. We can also invite clients to access specific (password protected) folders so there is no need to send them the work, they can have direct access to the files.
Our previous archive system lives at a director's house so we still have access to older projects. Our new archive system is directly built into Dropbox.
Want to arrange a meeting with us?
No problem. We can easily set up a video call with you on Google Hangouts or Zoom. Or even a phone call – remember them!. If you want to meet face to face, we are still very happy to come and visit you. Most of the Jump team live in or close to London. We could also arrange a neutral location for us all to gather.
Onwards!
The last two years have brought big changes to a lot of people and to a lot of businesses. But sometimes the things that challenge us bring unexpected positive outcomes. We believe this is a new chapter in the Jump story that will create a better quality of life for everyone.
Is there anything you would like to discuss with us about Jump being a fully remote-working company?
Do drop us a note or give us a call.