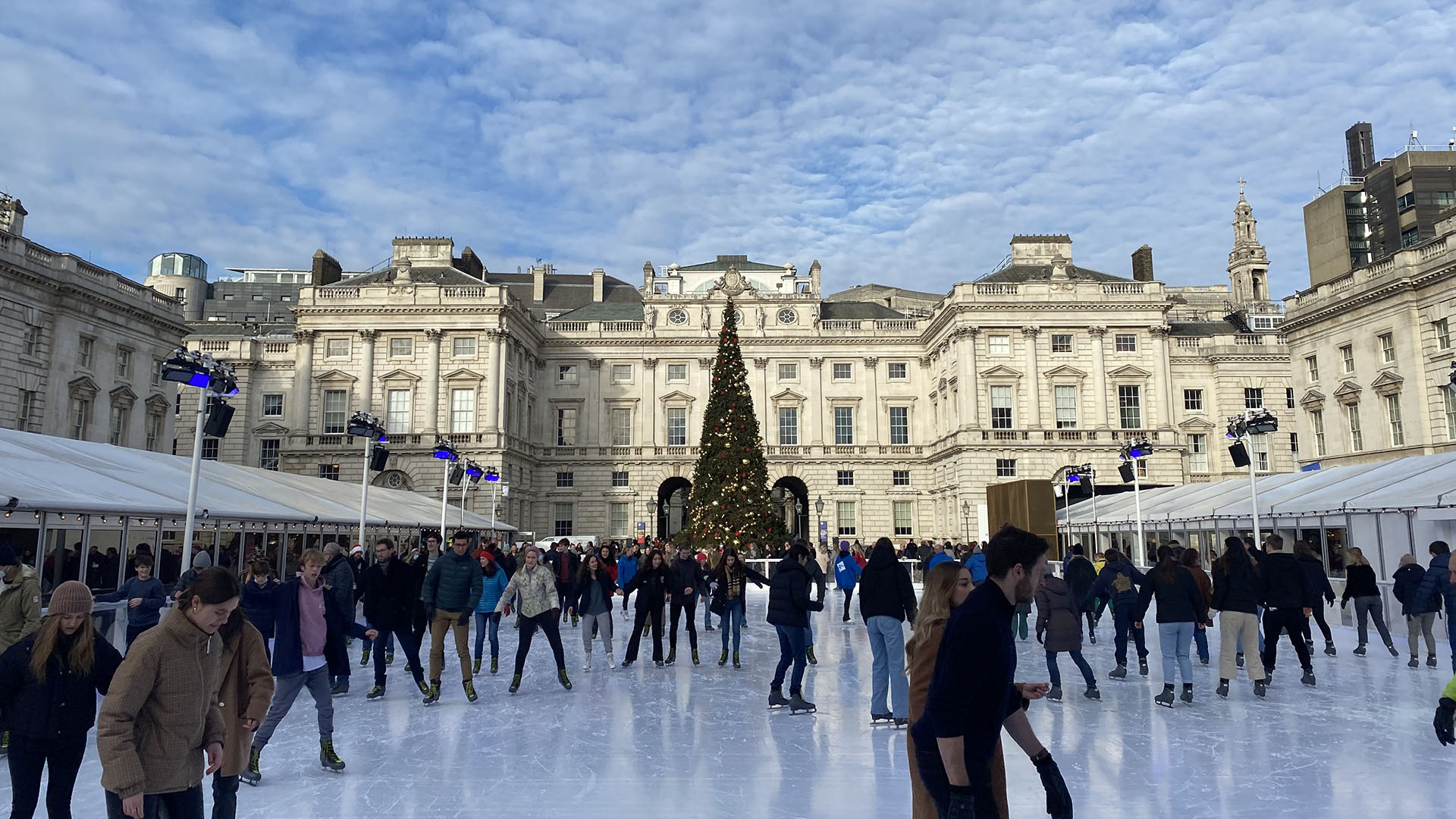 December 13, 2021
JumpDay – Ice Skating at Somerset House
This year the Jump Christmas Party started on the Ice Skating Rink situated within beautiful Somerset House at The Strand. It was the most perfect, glorious, blue-skied sunny day.
This was also the second of our JumpDays, where the team gets together in real life to counterbalance the fact Jump is now a fully remote-working company (Read more here).
The Jumpers – all waving negative Lateral Flow Tests – gatherered at Hotel Chocolat's Chocmobil for a warm-up hot beverage before strapping on their steely sharpened blades and heading for the ice.
It's fair to say there was a range of talent on display. A few fine Torvill and Dean impersonations – equally matched by some Blades of Glory wannabes.
One favourite moment was Mr Norley being firmly instructed to 'Get on your knees!' by a helpful steward concerned by his flailing attempts to resume a vertical posture. Normal service resumed shortly afterwards.
Poor Becky, one of Jump's most keenly athletic designers had to sit out the skating due to a recent bad knee injury. But she and Katrina did an excellent job of closely guarding the Secret Santa gifts.
The team thankfully survived the session without injury and all retired to the adjacent Moet et Chandon Champagne Bar, where Karon and her mum Carole had arrived early to nab a big comfy table for us all (Three cheers all round!)
It was a short walk around the corner to Masala Zone in Covent Garden for a truly delicious Christmas Curry feast. A perfect end to the afternoon – if not an end to the whole day – as the younger members of the team (plus Russell Mann of course) continued well into the evening.
Secret Santa gift of the day was received by Karon, who was given a rather splendid cushion with the face of Head Creative Richard Norley on it. Now, who would not want that perched on their favourite armchair.
Big love to Jump's Sam Clarke – who is the biggest fan of all things to do with Christmas – and who sadly had to miss the party due to being in isolation following a recent encounter with the dreaded Covid. We missed you Sam but are delighted you're recovering well x