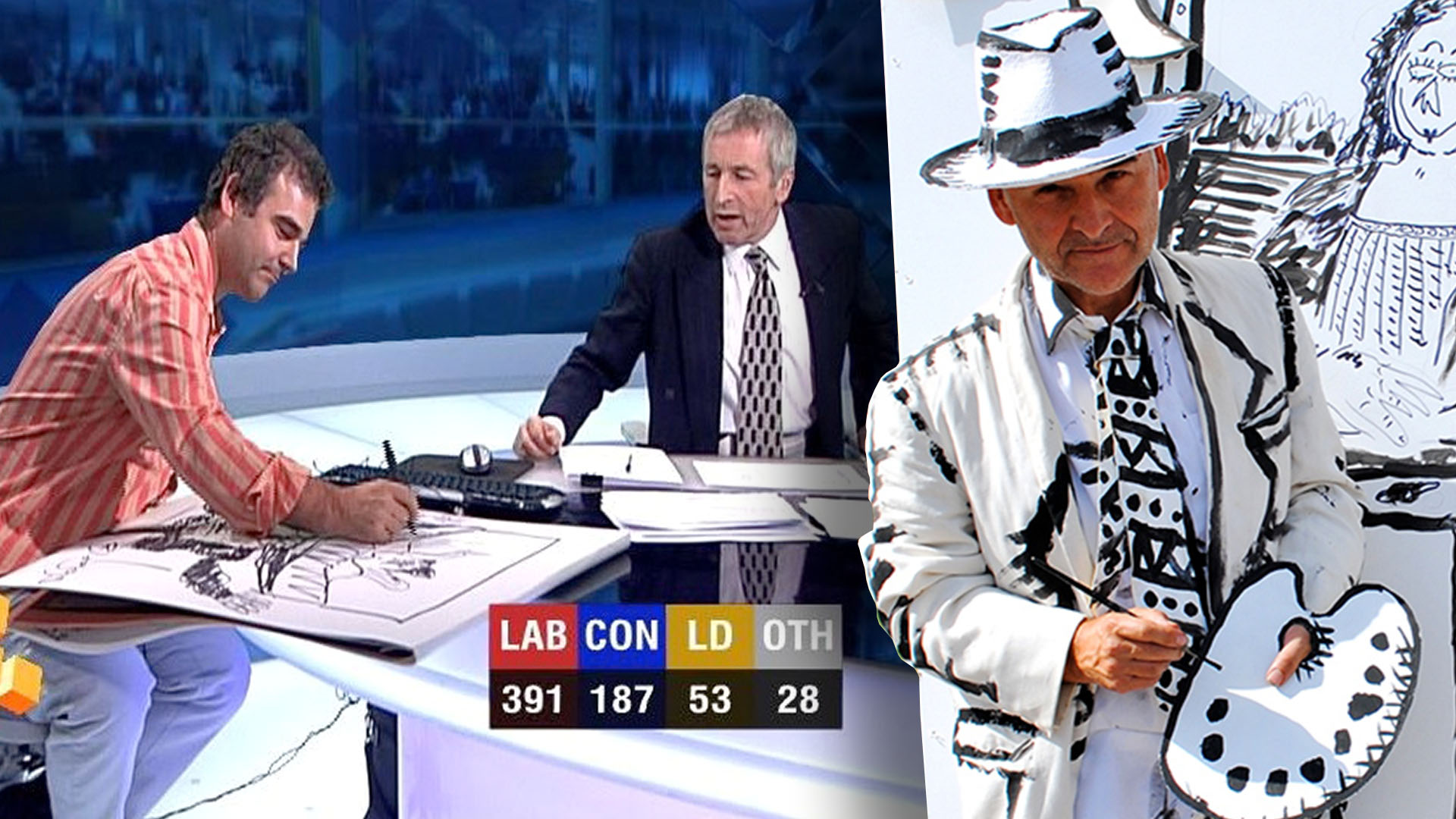 March 29, 2022
Meet Glenn Marshall – From ITN Creative Director to Private Eye Cartoonist
We've known the brilliant and multi-talented Glenn Marshall for many years and thought it would be educational – and most definitely great fun – to chat with him about his career.
We (the Jump directors) all first met Glenn in the Graphics Department at ITN. He was Head of News at Ten graphics before becoming ITN's Creative Director.
Glenn has collaborated with Jump quite a few times. He was a major part of the creative team on Jeem TV (an Arabic children's channel branding project) as well as Capital TV and Heart TV which we launched for Global. Glenn has also brought a few projects to Jump such as Forces TV and an on-air rebrand for AP / Associated Press.
Glenn is a fantastic illustrator and cartoonist – and the prolific, hilarious work found on his social media channels is a mighty fine antidote to the gloomy stories in the world. (Links at bottom of the page)

But how did it all happen?
Hi Glenn – Please tell us a little about your career background.
I did four years at art college specialising in animation and typography, although I was sick the week they taught us how to draw noses. Initially I struggled to find work: my main problem being that I thought I was an 'artist' so when I got briefs I ignored them and did my own interpretation. I mostly survived on rejection fees and reduced price supermarket dented tins. I couldn't even afford materials; most of my portfolio college works have drawings on the back of them.

I finally got a break after a flatmate, who was an ergonomist, got me in to test a brand new digital paint system; so as TV stations started to go digital, I already had experience with those computer etch-a-sketches. I started working at the launch of TV-am mostly drawing Roland Rat. The animation was done live by moving a cut-out using a digital pen. If you moved it too fast (which happened frequently) the on screen menu would pop up on air!
After being sacked by TV-am (long story) I worked in post production doing animation and special effects. This was mainly as a 'matte monkey', spending hours digitally masking or correcting films that had been badly shot. I also freelanced for broadcasters including BBC / ITV / Channel Four. A career highlight was doing the hymn text on 'Songs Of Praise'. The company I was employed by more and more frequently was ITN and after about 18 months I suddenly realised I was working there full time.

At ITN I was forever having to film, animate, digitise, and make models of Big Ben for revamps of News At Ten. One scary time I was with a specialist Austrian crew who put a camera on a blimp for aerial shots of the clock face. A team of executives from ITV turned up to watch just as high winds tangled the blimp up with St. Stephen's Tower. We ended up getting them to grab hold of loose guy ropes and several of them got dragged through the mud in New Palace Yard, including the Chief Executive who was wearing a white Burberry mac. It didn't stay white for long.
In 1998 I became ITN's Creative Director instantly in a meeting with the branding agency Lambie Nairn. Everyone in the agency, including the cat, seemed to be called a Creative Director, so our Head of News told them that was what I was, just so it looked like we had one. The notice went up at ITN the next day, no salary or role change, just a shiny new title.

I was also a bit of a specialist in election graphics and for the 2001 campaign, wearing my would-be cartoonist hat, I was lucky enough to work with Gerald Scarfe. I animated his drawings of major politicians for a VR set where they interacted with the live election results, such as Blair's face changing from a grimace to a Cheshire cat grin. In the following election I worked with Darkside Animation on 3D interactive Spitting Image-esque caricatures of the main political protagonists, as well as some previous Prime Ministers.

At ITN we often filmed footage to use for generic graphics. I once posed in a cardboard box next to over-spilling bins, the image was to be used for homelessness and living on the streets stories (fake news). I often wondered if people I was at school or college with had seen it on News At Ten and thought 'I knew he'd end up like that!'.
I did get to travel a lot in my role, including speaking and attending broadcast conferences in the United States. Once I was in LA for Promax with Jump's very own Russell Mann. We were at a poolside Hollywood bar drinking cocktails served in incredible film spool shaped vessels. I sent a photo of us holding the cocktail to ITN HQ saying it was a prestigious award we had just won. When we got back to the UK I embarrassingly found out that the press office had taken it seriously and put the photo and award announcement in a company news update! To this day I never admitted the sorry truth.
Since ITN, I've fashioned myself as 'Digital Brand Awareness User Experience Multi-platform Content Imagineer & Global Visionary' which means I'll take on almost any project for money. This has included working on several juicy Jump projects. I particularly enjoyed the trips to Washington, Jordan and Qatar. I won the contract to do the global on-air rebrand for Associated Press which I took into Jump. It was a huge comfort blanket having the support and resources of the Jump team.
Mostly when I worked at 'Jump Towers' I used to use my own MacBook Pro. The first time I was let loose on one of the in-house work stations I built a fairly simple animation but every time I hit RENDER nothing happened. I kept hitting it but it still wouldn't work. Normally on my home desktop the same animation would render away while I went and got a coffee. Eventually I looked in my renders folder and found about 40 versions of the animation. Jumps machines were so powerful the renders had completed at the press of a button.
The thing I miss most about the Jump Office was their lush Lavazza coffee machine!
Who are your artistic influences and idols?
Jump obviously…ahem…but I spent my early illustration career thinking I was George Grosz. Though instead of drawing about the rise of fascism and decadence in Weimar, Germany I was making cartoons about how to get dog sick out of your carpet.
Also – (Google at the ready)
Tomi Ungerer (but not the rude stuff!)
Claire Bretécher (especially the rude stuff)
Terence Greer (his Penguin covers)
and of course Ronald Searle.
Plus for humour, my Mother – who was of some repute throughout the West Midlands in her Hinge and Bracket tribute act (Binge & Hackit).

What do you remember about the Jump Team from your days at ITN?
What I particularly remember of the 'Artists formerly known as IDF' – was them working on the fantastic parody news graphics for 'The Day Today'. I thought it was funny that we had just finished making our usual OTT news graphics for 'News at Ten' and then they would come in to get on the same machines and produce animations pillorying news graphics. I do recall Richard once getting a call from Armando Iannucci who said he'd just seen a graphic on 'NAT' that was 'beyond parody'.
Jump's Bomb Dog animation for 'The Day Today' is the one of the funniest things ever seen on British TV.

Where have we seen your cartoon work?
I've been regularly rejected … and occasionally published by Private Eye, The Spectator, The Oldie and Punch. I also did weekly strips for the broadcast trade press including TV Week, Televisual and Broadcast. Mostly now I just do my own work and either sell them at exhibitions or online. I'm the Poundland David Shrigley.

My first solo exhibition 'Glenn Marshall – Not Funny' was just full of rejected work, failed projects and drawings gone wrong. 'Not Funny' was the two word comment on an early batch of returned rejected cartoons!

Tell us a little about your typical day as a cartoonist.
A typical day involves getting up making a huge jug of coffee, have a lie down, try to think of ideas, read the papers, get depressed, have another lie down, watch 'Homes Under The Hammer', make another jug of coffee, draw something, ANYTHING, open a bottle of 'vino collapso'…that takes up to about 11.00am. I'm one of the few people whose working day was not remotely affected by the pandemic.
What equipment do you use to create your work?
After working digitally all my career I enjoy the unpredictability of drawing with a scratchy dip pen on rough paper. There's something quite visceral about it and it's very therapeutic releasing the pent up aggression drawing someone like Putin or Trump. Last time I drew Trump, apart from my nib I also used a sledge hammer!
I'll draw with anything but NEVER with the Gillott 303 nib which is the sperm of the devil!

I do still use After Effects, Premier Pro, et al to crudely animate my drawings.
You can watch a selection of Glenn's animations here.
What are the similarities / differences between being Creative Director of ITN and a Cartoonist?
Working in broadcast news and current affairs you become disciplined at working fast to very tight deadlines and having to think up quick solutions. This is very true in the cartoon world too, especially if you're doing topicals.
There is also often a very dark humour in newsrooms. The daily editorial meetings were some of the funniest experiences I've ever had.
A main difference was I had lots of people to work with me, now I have to do it ALL myself. I'd love to have an in-house team of cartoonists who I instruct to do my drawings while I lie on my chaise longue in a toga with a goblet of claret.
Follow
Twitter: @marshallcartoon
Instagram: @marshallcartoon