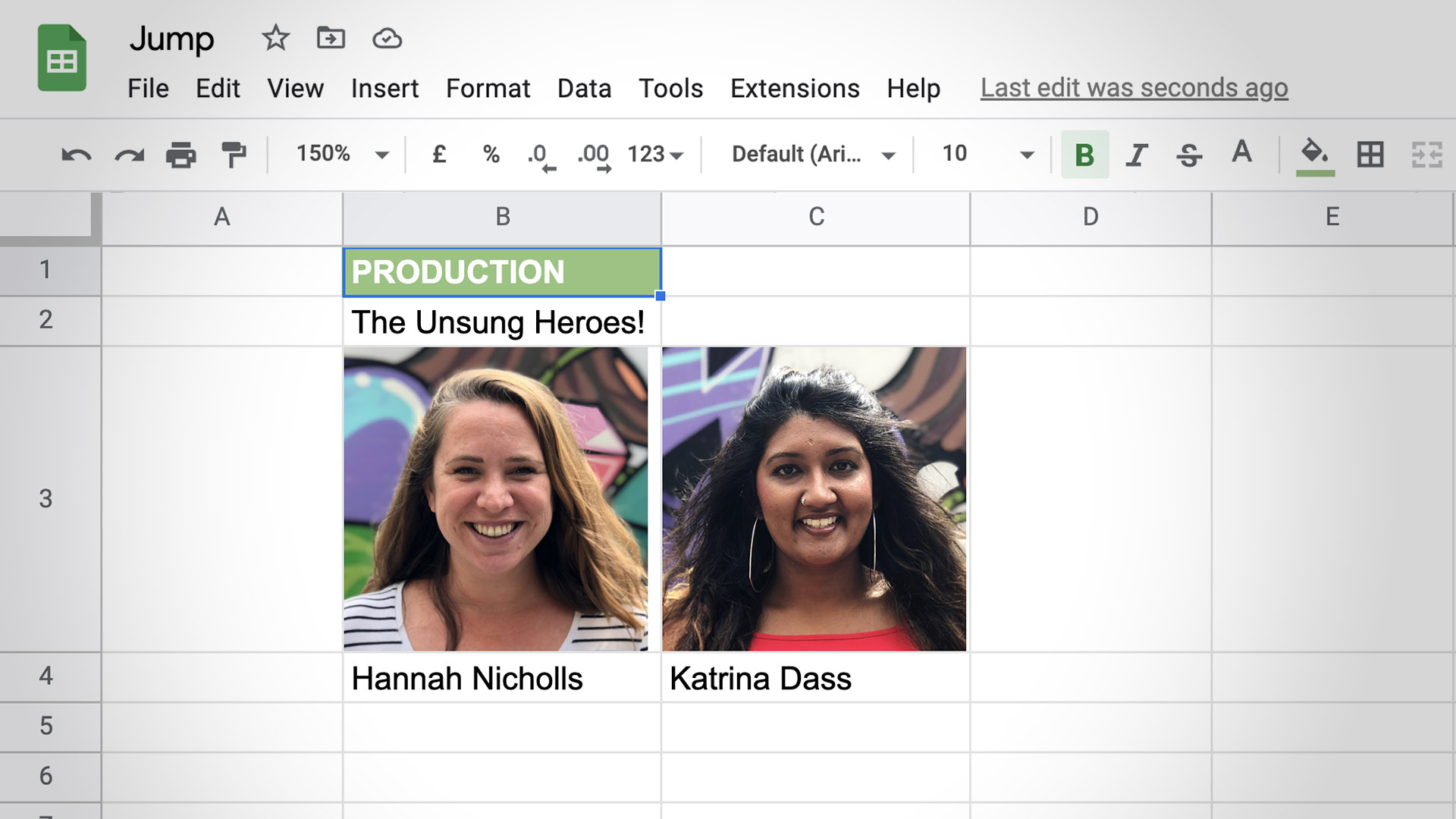 March 22, 2022
Production – The Unsung Heroes
Jump's guide to how great scheduling and budgeting will ultimately improve your graphics.
Slick, shiny 3D graphics and cool, colourful animations may get all the headlines and the limelight but none of this matters if your job isn't delivered on-time and on-budget. At Jump we fully appreciate that our Production Department is the backbone of the company and deserves massive credit.
In this article we want to introduce you to the team and share some of their wisdom, advice and top tips for how Production can help you get the best results for your project.
Hannah Nicholls – Senior Production Manager.
Katrina Dass – Production Co-ordinator.
What advice would you offer to clients to get the best results for their graphics project?
HN – "For TV programming – come to us early – even if you have a small budget but big ambition, if we're with you from the start of the project we can recommend ways of maximising what you have.  If we have the chance to get under the bonnet in pre-production, we can recommend plate shots / GVs / framing that can make our lives and what we do quicker and easier.  It's also harder to make graphics feel part of the whole programme when they're a quick turnaround job in the last six weeks of post-production!
In general – sometimes telling us what you don't like is a quicker way to the finish than telling us what you like.  Don't be afraid to rattle off a list of things you don't want near your finished product."
KD – "A full and detailed brief from the get go is always massively helpful for us to make sure we schedule in the appropriate time to hit the deadline and be on budget. But also to make sure we don't miss anything that is needed."
What other general advice would you offer to Production Managers?
HN – "Creative engagement with graphics is crucial, but can often be left to the PM to sort. Getting Producers and Execs on video calls with us early really helps both sides. Knowing the tech spec requirements is also really important – finding out at the last minute that you need a whole other format of deliverables can be time consuming and costly, which no one wants.
And other than that – Karon, Katrina and I are all card-carrying members of the secret Production Management society (the one with the special handshake!) – we're extremely friendly and have been in your shoes, so we are definitely on your side."
KD – "Checking in on the team regularly is really important. Especially being a fully remote company like Jump. It's great to have catch up on projects but also ask what everyone's weekend plans are.
Don't be afraid to ask for help. Working at a graphic design company,and not personally being a designer, means sometimes I have no clue when the designers start talking technical. But it's always good to listen in and learn. The team is always happy to explain and bring me up to speed."
How did you get into Production Managing?
HN – "After university I dabbled in the editorial side of TV, but felt it wasn't quite the right fit for me.  I moved over to the Production side via a stint as a PA (to a long-standing client of Jump's – hello Ricky!) at the BBC. From there I worked up the Production ladder as a freelancer across Entertainment, Children's, Factual and Sport. I've had the pleasure of working on Strictly Come Dancing, Bake Off, Comic Relief and the BBC Proms to name a few, but I decided it was time to change tack four years ago. I already knew Jump well. We worked out recently I had done 13 different jobs involving them – so maybe it was fate that they had a vacancy just as I was looking?"
KD – "I studied Media and Communications at university and for me it was a process of dipping into different subject areas of media when I was choosing my modules (ie. journalism, radio, TV). After I had a flavour of each I decided to continue with what I enjoyed the most – which happened to be TV. I stuck to this in my second and third year of uni and graduated in that field.
During uni, experience is everything. It's good to try and get in early, even doing work experience while you're still studying, which is what I did. I was fortunate enough to keep contact with the companies I did work experience with, and this led to my first real life telly job as a Runner. In that company I went from Runner to Researcher. After this point I wasn't sure whether I wanted to go down the creative or production route. Safe to say that I'm very happy with the path I chose and I love my role in the Jump production team."
What are the biggest challenges of being a Production Manager?
HN – "Keeping the plates spinning! Making sure each individual job is getting exactly what it needs, even at the moments where we are frantically busy. Luckily we seem to attract delightful clients and we're very open with our processes, so nothing is insurmountable."
KD – "As cliche as it sounds, communication really is key and that's with your team as well as your clients. It's always good to keep everyone in the loop about everything – changes, updates, new information. Usually there are so many moving parts and it's important to keep on top of them. Personally, I'm a fan of spreadsheets or making lists to make sure I keep my eye on all the projects."
Does being a Production Manager within a motion graphics company differ from working anywhere else?
HN – "On a practical level – I have zero skills when it comes to motion design and it's a very alien concept not being able to get stuck in with your colleagues to solve a problem, but I know we have an incredibly talented team so my job is just to make sure they have everything they need.  Sometimes this is just being a sounding board.
On a more general level – the creativity the designers and Creative team have is mind-blowing. There are moments where you see real, actual genius in play when they're discussing ideas and their insane synapses kick in.   The same feeling as when you see a REALLY FIT excel spreadsheet schedule, for sure."
KD – "From my experience at other TV focused companies, there's more of a line between runner / researcher roles and production. But at Jump, because it's a motion graphics company and a smaller tight-knit team, I've found myself on shoots being an all rounder which is nice to be able to dip into other roles."
How has working remotely changed or affected what you do?
HN – "I used to spend the working week with a certain level of stress, which I thought was a given. As it transpires – that stress was mainly down to a 2 hour daily commute on the Northern Line. Without sounding too dramatic – working from home has changed everything. From a personal point of view, the benefits are the same as everyone else with small kids.  But professionally – I now get to speak to the team on a more one-to-one basis, I am able to attend more meetings thanks to all the various conferencing platforms and our client roster has expanded as geography is now obsolete when it comes to who picks to work with us. I miss seeing my co-workers face-to-face, but Jump has really worked at maintaining an office culture even with no office."
KD –  "I actually left Jump a few years ago and moved back home to the Midlands. Because of the new remote-working opportunities I've re-joined the team and I'm able to work forJump over 100 miles away! Travelling from the Midlands to Jump's old office in London would have been a hugely draining and expensive commute."
You can read more about Jump being a permanent remote-working company here.
What would you like to see change in the industry? What could improve?
HN – "More money!  More time! And not seeing graphics as an afterthought!"
KD –  "Being considered for graphics earlier in a schedule gives us more time to create amazing graphics, not that they're not brilliant anyway!"