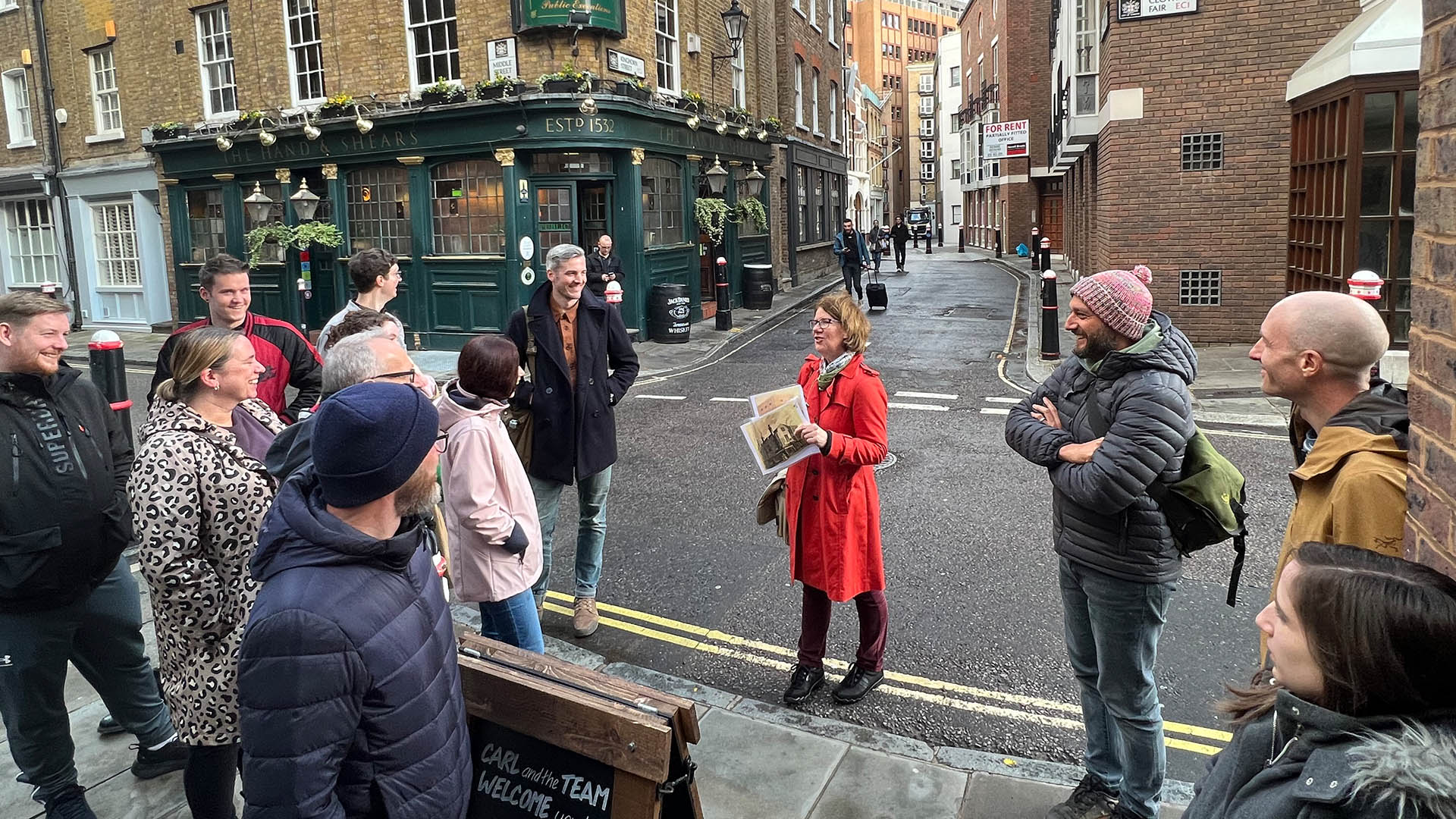 November 4, 2022
JumpDay – Guided Walking Tour of Clerkenwell
For our 10th team-bonding session, this month's JumpDay was a Guided Walking Tour of Clerkenwell's hidden alleyways and ancient landmarks. Seeing as it was so close to Halloween there was also a rather gruesome theme to the walk – as we heard stories of murders, mass burial sites and butchery near Smithfields (not just the animals … yikes!).
The tour was led by Joanna Moncrieff (Westminster Walks) who has an incredible knowledge of the history of the area – including many of the characterful old pubs. Hence we started up by meeting at The Hand and Shears, one of London's oldest pubs – or to be more accurate as we learned – one of the oldest sites for a pub in London.
We were told that many of the places' names in the area gave clues to the origins. Clerkenwell is named after the Clerks' Well, a 12th-century water source that adjoined St Mary's Nunnery (1140), a religious order once located off Clerkenwell Green. And the road we were standing on Cloth Fair – was indeed the site of a material market back in Medieval times.
Peppered throughout the walk were fantastic stories. Possibly the favourite being about the supposed death of a poor lady by over indulgence of pickled onions at the Old Red Cow, Long Lane in 1842.
Our walk lasted 2 hours and took us around sites including St Bartholomew's Church, Charterhouse Square, Smithfield's Market, St John's Gate, Farringdon and Bleeding Heart Yard.
We finished our tour appropriately enough at another ancient pub. This time Ye Olde Mitre – hidden down the narrowest of alleyways off a private street. Its origins lay in the 16th century and Queen Elizabeth I is said to have visited frequently and danced around a cherry tree in its garden.
We highly recommend booking Joanna for your own tour if you fancy learning loads of interesting facts about hidden London streets – or maybe the true stories behind landmarks you might walk past all the time. Joanna also specialises in walks around Westminster – unsurprising as her father was the late, great political journalist Chris Moncrieff.
Clearly great storytelling skills run in the family. Thanks Joanna.
Few related links:
Read about some of our previous JumpDays:
Cornelia Parker Exhibition / Life Drawing Classes