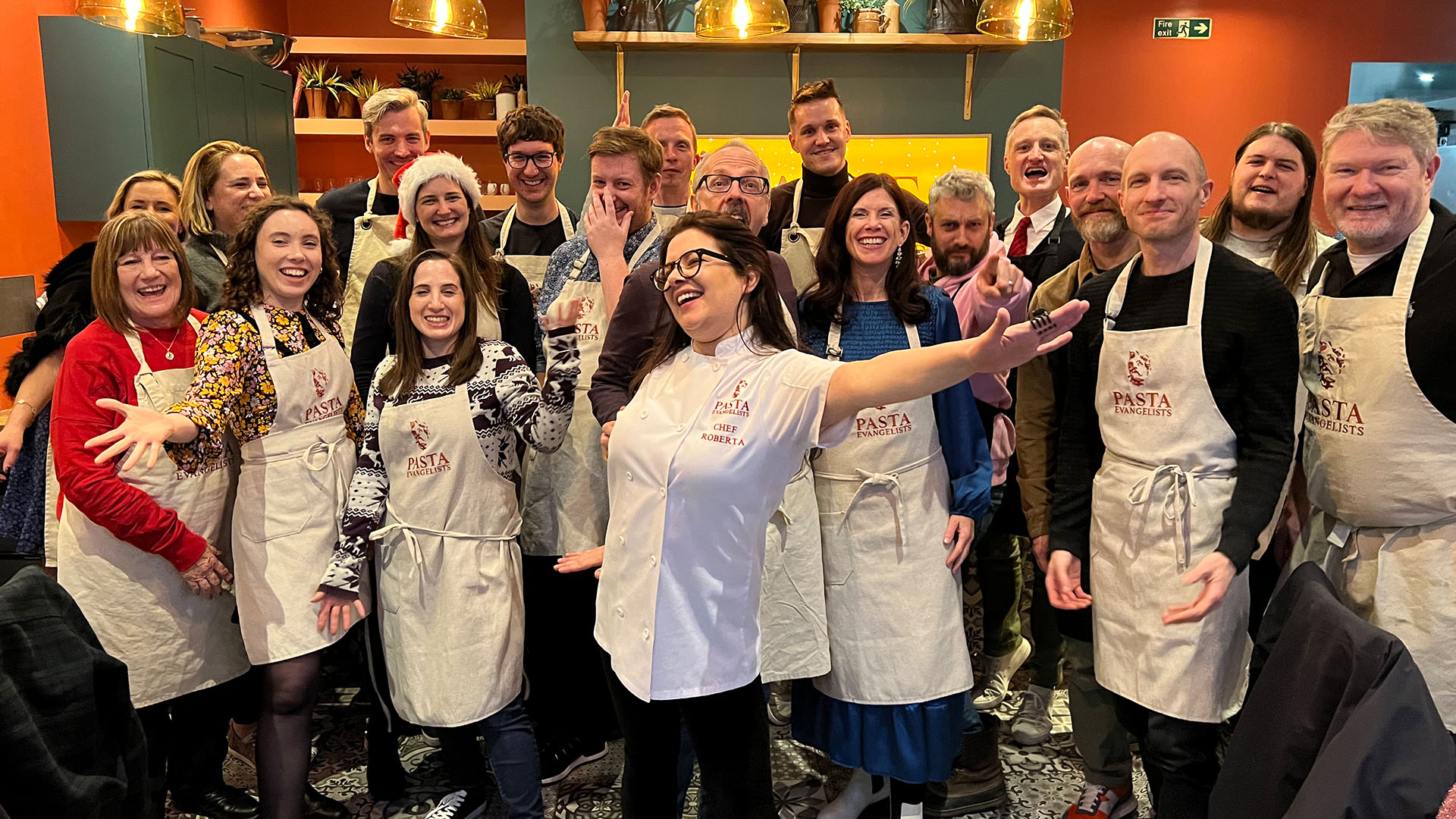 December 12, 2022
Christmas JumpDay at The Pasta Academy
This year's Jump Christmas party was held at the Pasta Academy in Farringdon – which is run by Pasta Evangelists. You might be familiar with their amazing home-delivered artisanal fresh pasta boxes. The school is tucked behind Smithfields Market on Long Lane – and makes for a very warm, inviting space.

They run a wide range of courses for different types of pasta from different regions of Italy – but we were there to learn how to make festive fresh handmade pasta stuffed with a zesty, herby ricotta filling.
The team were greeted with the sound of prosecco corks popping and a luxurious welcoming antipasti feast.

Everything you require to make the pasta dish is provided – from ingredients to aprons – and our team of 19 people were very comfortably spaced out across two huge work tops.

The class was run by Chef Roberta – whose boundless enthusiasm, energy and humour got the team engaged and laughing right from the start. We were first shown how to mix and work the pasta dough by hand. While it rested, Roberta went on to teach us how to roll and shape it using rolling pins and wheel cutters. Surprisingly simple although a little elbow grease and persistence is required.

Roberta strictly advised (as only a good passionate Italian chef can) that using a pasta rolling machine is fine – but don't then tell people it's HAND-made … although it could still be called HOME-made. Duly noted Chef!

We returned to our workstations – and fuelled by prosecco – did our best to recreate Roberta's masterful pasta parcels. Everyone did brilliantly.

Of course the best bit was that once we finished – our pasta was quickly cooked up and became a delicious Christmas lunch.
Even Jump's Technical Director, Russell Mann – who was initially mortified he was going to have to eat a Christmas lunch he cooked himself – was delighted with the results.

The Pasta Academy team could not have been more welcoming (true Italian hospitality) and really made the course an educational, top fun afternoon.
Grazie mille to Chef Roberta and the Pasta Academy Team.
xxx
********
You can read about some of our other team-bonding JumpDays here:
Guided Walking Tour of Clerkenwell