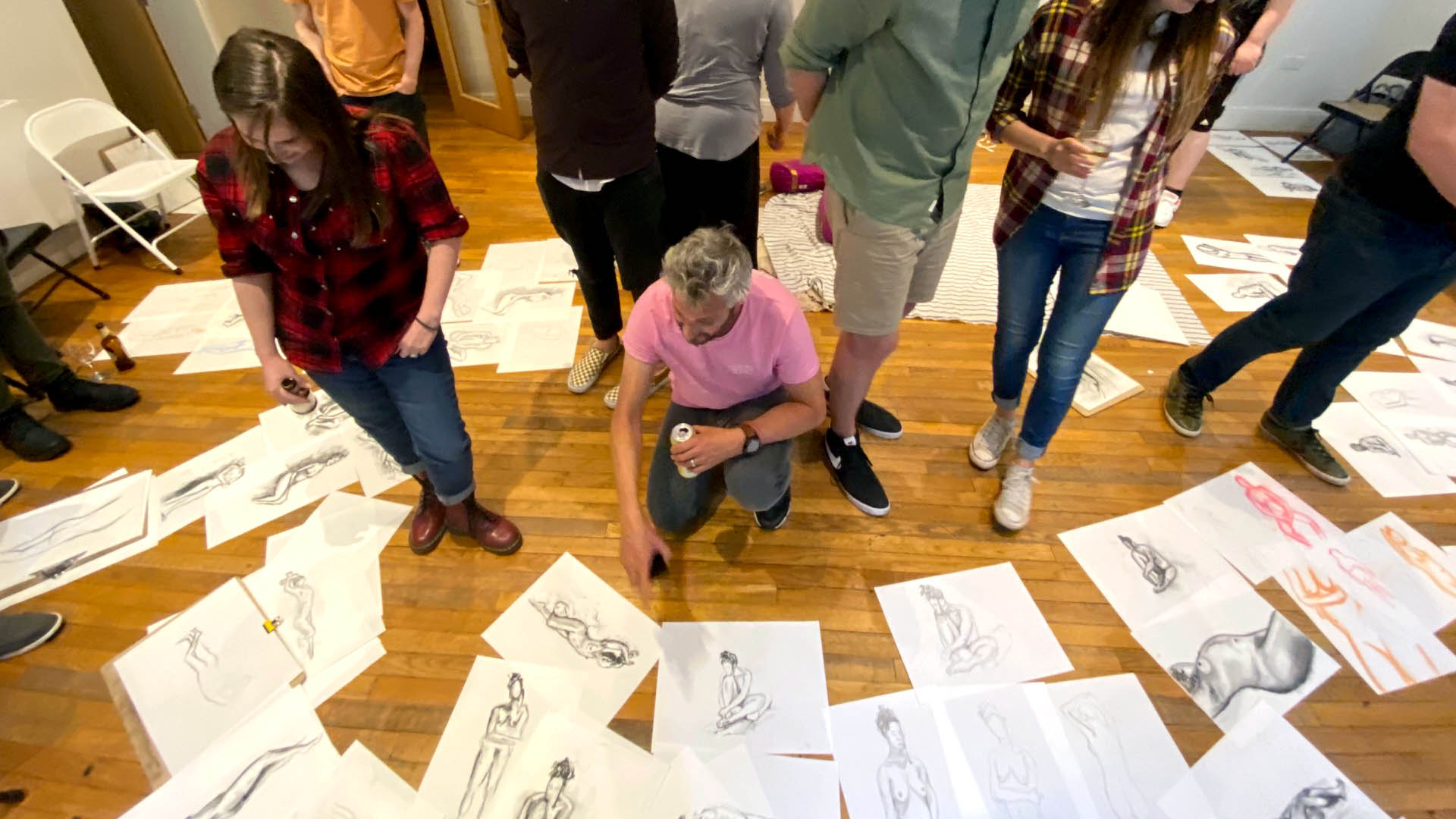 June 10, 2022
JumpDay : Life Drawing – The team sharpen their pencils and their drawing skills.
This week Jump held its 6th team bonding session – which we call JumpDays.
We hold these gatherings to balance out the fact we are a full-time remote working company. We have all the benefits of working from home – but still get to regularly socialise and bond together over a range of different activities. It's a vital part of keeping the company culture alive and well.
We gathered in Shoreditch at one of Jump's favourite old restaurants – Meat Liquor – for a few burgers, fried chicken towers and shakes. No Chilli Challenges on this visit thankfully! 
The team were then delivered a series of clues to find their way to a nearby secret venue where the event was being held. (We highly recommend using the website Giggster for finding a really wide range of funky meeting / event / shoot spaces btw).
Waiting for everyone at the venue was the super talented Life Drawing teacher Bella Franks. Bella runs classes under the name 'Bella's Bits and Bobs' and held several sessions at the old Jump office before the pandemic hit. It was great to be able to invite her back.
Armed with paper, pencils, charcoal, erasers and 'gin in a tins' – the team had a couple of hours to unleash their creativity. We started with 3 min warm-up poses including some cunning techniques Bella suggested that we all try. These included drawing with your wrong hand and also without looking at the paper (Not both of those things together though!) Unsurprisingly it's really hard but a great idea for stopping you worrying if your drawing skills are good enough – as everyone in the room is producing some rather wobbly sketches! 
We progressed to longer poses of 10 to 20 minutes and everyone noticed a big improvement over the session. 
Example below of Bella's amazing demonstration work.

Richard Norley – Head Creative at Jump:
"As Head Creative I'm more used to working with designers and animators, rather than holding the pencil myself. And as someone who rarely draws, I was rather worried how my somewhat limited skills would compare to my colleagues who really can draw! Having said that, I really enjoyed the class. It was actually a very relaxing, meditative couple of hours. It was nice to truly concentrate on something completely different that wasn't on a computer screen for a change!"
Some more comments from the team about the experience:
"I have to admit that I never came to the previous sessions as I was self conscious about my drawing ability, especially surrounded by such talented artists. But Bella made me feel comfortable and gave me the confidence to go for it. It was great to see a little improvement throughout the session."

"I was dreading drawing but I actually really enjoyed. I did however very nearly leave my drawings on the train … had to jump back on to pick them up!"
Bella runs regular life drawing classes – so keep an eye on her social media pages for details if you fancy having a go.
Some of our other JumpDay activities have included ice skating, museum trips and poker classes.