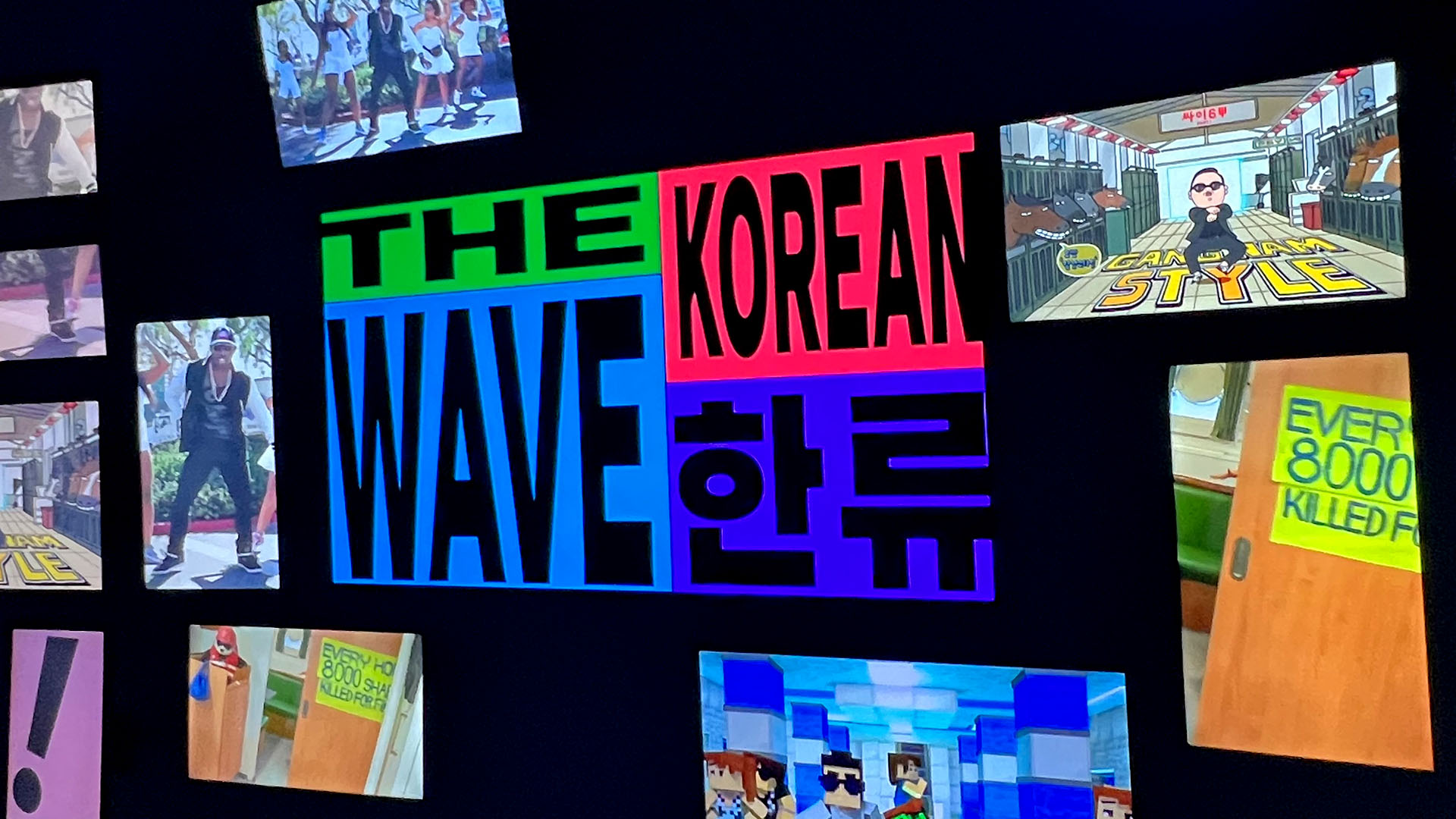 February 10, 2023
JumpDay: Hallyu! and Matt's house at the V&A
For the first JumpDay of 2023 we visited the beautiful Victoria and Albert (V&A) Museum in South Kensington.
JumpDays are our regular team-bonding afternoons which counterbalance being a full-time remote working company and help to keep our all-important company culture alive and well.
We kicked off the afternoon by exploring the vibrant 'Hallyu! Korean Wave' exhibition.
The first room welcomes you with a multi-screen display showcasing the famous Gangnam Style by Psy. The promo pokes fun at the Gangnam District – a particularly flashy area in Seoul known for its affluence, high rents, high expectations and high-status lifestyles. The video has an astonishing 4.6 billion hits on Youtube.

The V&A describes the exhibition:
"From K-Pop costumes to K-drama props and posters, alongside photography, sculpture, fashion, video and pop culture ephemera, the exhibition invites visitors to delve into the phenomenon known as 'Hallyu' – meaning 'Korean Wave'. Hallyu rose to prominence in the late 1990s, rippling across Asia before reaching all corners of the world and challenging the currents of global pop culture today.
Hallyu! The Korean Wave explores the makings of the Korean Wave through cinema, drama, music and fandoms, and underlines its cultural impact on the beauty and fashion industries. The exhibition features around 200 objects alongside pop culture ephemera and digital displays across four thematic sections."

Lee Jacobs – Senior Art Director at Jump:
"I particularly enjoyed the Nam June Paik video sculpture which featured 33 TV monitors – as he was a name mentioned a lot by my university lecturers."
Kate Norley – Company Director and Creative Producer at Jump:
"If you'd like to get an insight into the historical persecution of Korea by the Japanese, I would highly recommend reading Pachinko by Min Jin Lee."
The show runs until the end of June and we highly recommend a visit.

***
As we were wandering around the rest of the V&A, the lovely Matt Marcroft (Senior Animator at Jump) revealed that a model of the house where he currently lives is exhibited in the V&A Architecture collection. Obviously this was way too exciting and intriguing to ignore – so we all headed off to go find it.


Matt explains further:
"We live in BedZED, or the less catchily named – Beddington Zero Energy Development. It was built in 2002 and designed by Bill Dunster Architectects for Peabody Trust.
It was the first attempt in the country to achieve a near carbon-neutral lifestyle – helping the residents to cut all carbon emissions related to their daily lives. A 21st century 'Garden City'.  It used reclaimed structural steelwork in its construction, and sourced most bulk materials and labour within a 50 mile radius of the site. It was shortlisted for the UK's biggest architectural prize, the RIBA Stirling, and won the RIBA sustainability award.

"My wife's parents are regular V&A visitors, and they discovered the model on display there. It's bonkers to see a model of the home you live in housed in the V&A's architecture gallery. It really makes you feel part of something special.
I've lived here for 14 years, amongst a fantastic, proactive community and am delighted to have had the experience.  Sustainable living is more important now than ever before and housing developers should not perceive BedZED as a one-off – its design and construction principles should be a baseline for new housing stock.
Sadly our time living at BedZED is coming to end though as we are moving to see if a life in the country  works for us. We will be taking so much of what we learned about sustainable living from this unique and important place."
If you fancy buying Matt's home – here it is!
Article about BedZED in The Modern House.
You can read about some of our other team-bonding JumpDays here:
Guided Walking Tour of Clerkenwell