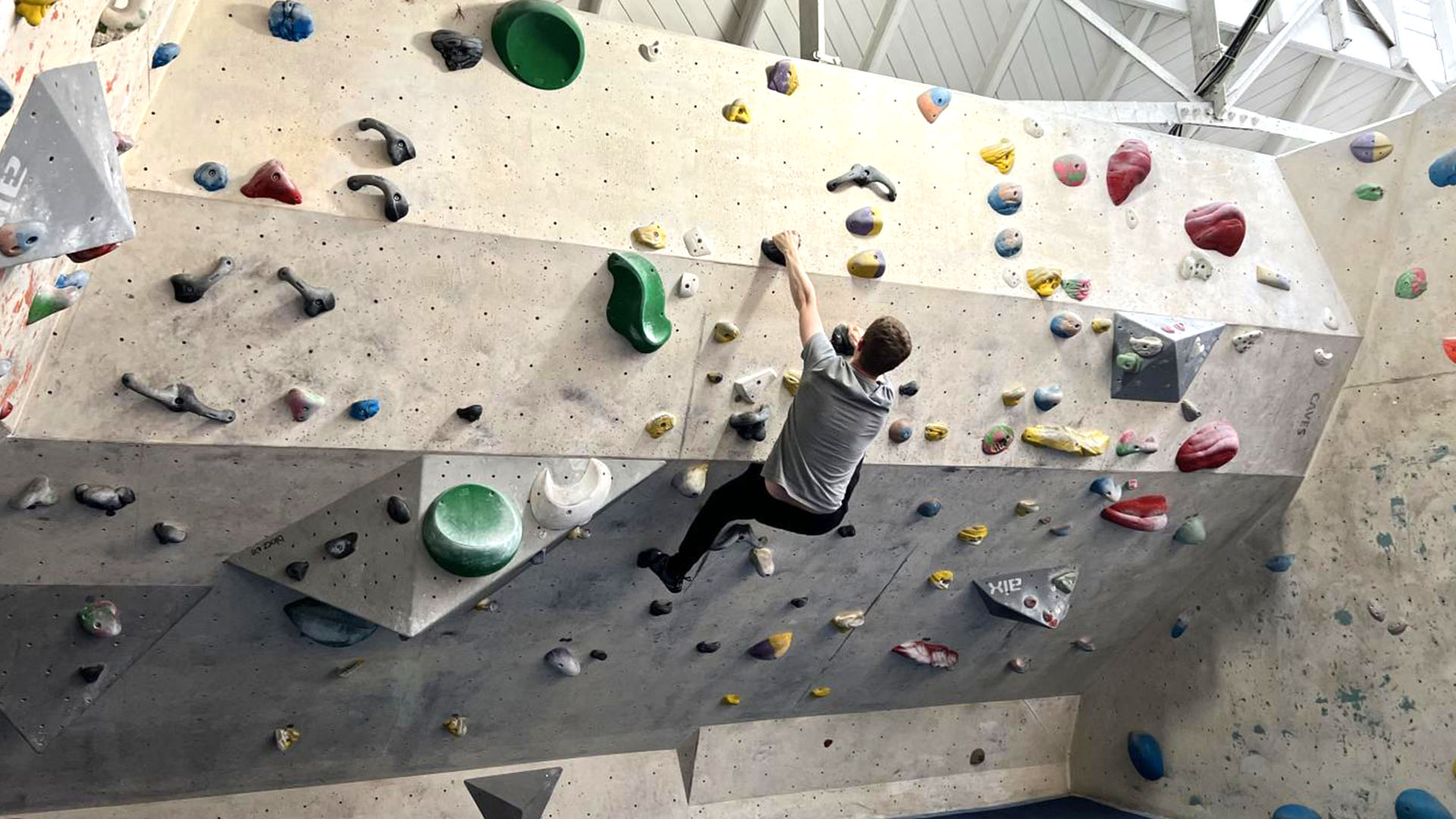 March 30, 2023
JumpDay – Climb Every Mountain
For this month's JumpDay the team dressed up in their gym gear, slapped liquid chalk on their hands and headed off to The Arch Climbing Wall in Bermondsey with the words of Julie Andrews echoing around their heads.
We were signed up for a Bouldering wall climbing session, where the boulder problems are set on walls up to around 4m rather than super-high wall climbs involving complicated rope knots and harnesses.   It hadn't helped that people were sharing the movie trailer for FALL the night before we went for our session – but everyone was nervously excited to put their climbing shoes on and have a go. (Turns out climbing shoes are not challenging UGGS for comfort by the way!)
Climbing had been suggested as an event by Jump's Senior Animator Matt Marcroft – who is a very keen climber.

Matt Marcroft – Jump Senior Animator / Resident Climbing Enthusiast:
"I was sure that the team at Jump would take to a social and fun sport like climbing very easily, and I'm glad (if not slightly smug) to be proved right. 
Climbing, and particularly bouldering is increasingly popular and accessible these days with new walls opening up all the time. It's a sport that engages a full body workout with the objective of solving boulder 'problems' – something that is often best done in a team. The Jump crew worked several project boulders together which was really great to be part of."
In the style of true professional athletes we began the day with some delicious cinnamon / cardamom bakes from Buns From Home. (We highly recommend them!)

Our hour-long lesson very sensibly started with some gentle warm-up exercises under the guidance of two instructors from the centre.

We then headed off into the big rooms where walls of varying slope degrees are covered with hundreds of multicoloured and multi-sized stone hand / foot holds.

The first golden rule we were taught when moving around the bouldering wall – is always look above you and never climb or walk underneath someone else. Very wise.
Weirdly, the second thing you learn in a climbing lesson is how to fall off. Everyone took it in turn to climb up to increasing heights – before jumping back to land on their feet and roll on their backs. Despite the creaks, groans and giggles – everyone survived phase one.

After a bit more tuition the team were quickly leaping and bounding up the walls like enthusiastic mountain goats. In fact at the end of the hour lesson – everyone was having so much fun we stayed on for longer to explore the devious climbing nooks and crannies around the centre.

The team finally retreated to The Kings Arms Pub in Tooley Street for some much needed rest, tipples, nibbles and Jenga.

By coincidence the pub also runs Watercolour Wednesdays so we had paper and paints to satisfy any creative urges – for those who still had enough strength left in their arms to lift the brushes anyway.

A few more reactions from the team.
"Thanks for yet another brilliantly organised and executed Jump Day and great job Matt for planting that seed. What a fun day!"
"Big thanks for showing us the bouldering way. I thoroughly enjoyed JumpDay, it was ace. My arms are killing me but it was worth it and I'm up for going again."
You can read about some of our other team-bonding JumpDays here:
Guided Walking Tour of Clerkenwell