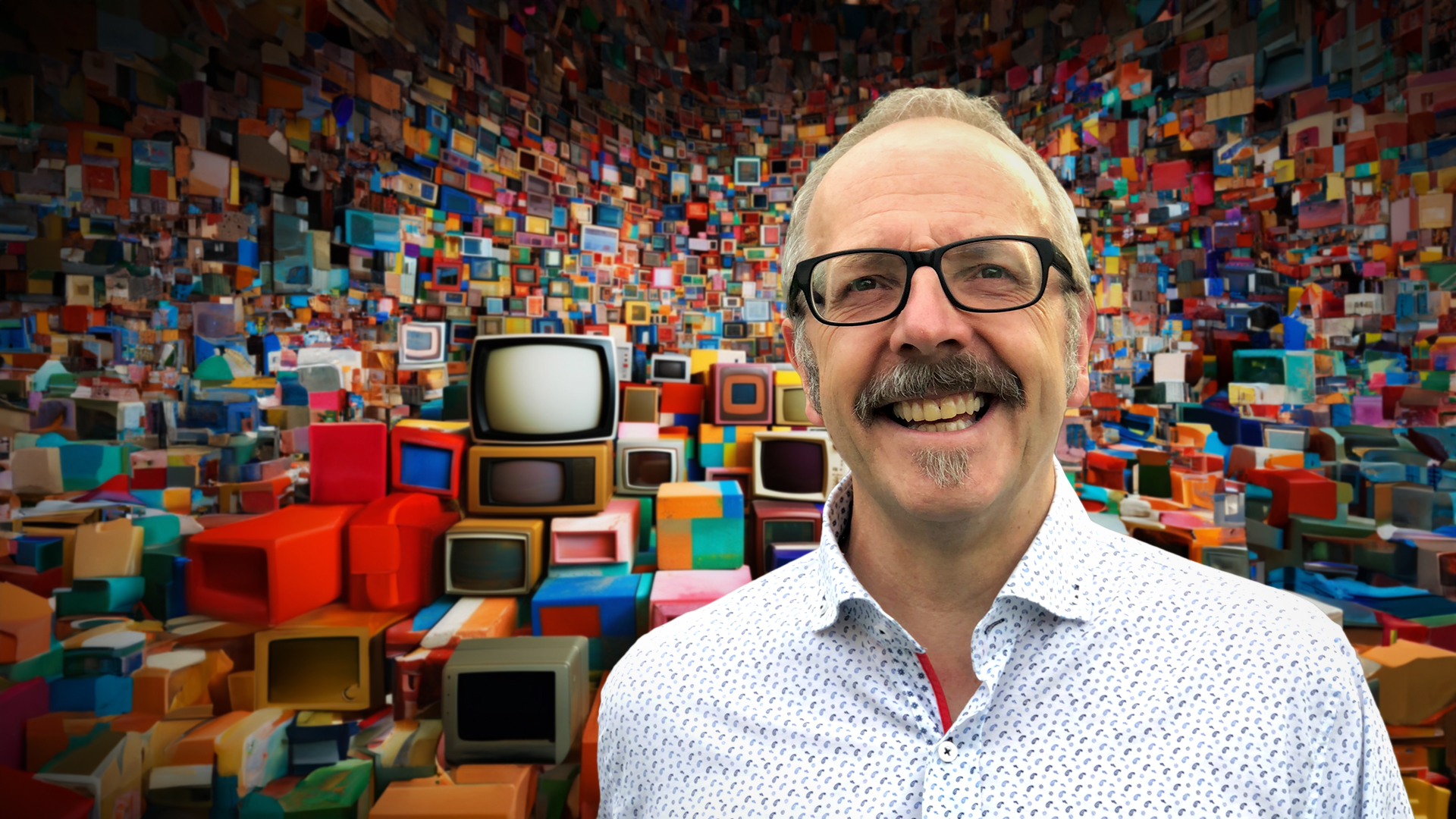 June 1, 2021
Meet Jump's Head Creative – Richard Norley
We asked Jump's Head Creative, the brilliant Richard Norley, a few questions about his career and setting up the company back in 1996.
What did you study before starting a career in television graphics?
I spent 3 years at the West Midlands college of Higher Education studying for a BA in 'Visual Communication Studies'. It was one of the very first multi-discipline courses in the country at the time. An innovative combination of academic subjects including, English, Sociology, Linguistics, and Psychology combined with practical courses in Design, Photography, Video Production, even Fashion (sadly, I've long lost my sense of fashion).
In the 3rd year I specialised in TV animation – what was later to become known as Motion Design. It's hard to believe or understand now but at that time TV design was created 'in-camera' using real physical cardboard graphics placed in front of the camera with elaborate pull reveals or stop-frame filming. During my 3rd year I was fortunate to land a placement at the BBC News Department in London, working on Newsnight and BBC Breakfast Time – using a brand new piece of computer graphics equipment called the Quantel Paintbox. I really took to Paintbox and it really took off, kick-starting the 1980's computer graphics revolution introducing the world to computer generated animation.
What do you remember about setting up Jump?
I remember a lot of discussion around our company name. At the time design companies were modelled on advertising agencies and named after their founders. Baxter, Hobbins, Sides or McCullum, Kennedy, D'Aria. Directors' surnames were arranged in the most professional and impressive sounding order. Reassuring potential clients that any money spent with them would be rewarded with multiple awards and double page spreads in Creative Review or Campaign.

We had the same lofty ambitions, but we wanted our company name to stand out from the rest and to reflect us as people, our positive upbeat and somewhat quirky attitude. It was co-founder and now Head of Animation, Russell Mann, who eventually came up with the inspired name Jump. We all loved it and agreed almost immediately that that was going to be our name, saving us from the embarrassment of 'Big Pie' or worse still 'WeDoVoodoo' which were the other front runners at the time.
What's your role as Head Creative at Jump?
I help run and oversee as many of the projects that come through our door as possible. With the help of Jump's fabulous Production team – Jump co-founder Karon Hall (now our Head of Operations), Head of Production Hannah and Production Co-ordinator Katrina. We work with Jump's Art Directors to get the very best from our young, enthusiastic and dedicated design team in order to enhance, if possible, their already excellent work.
As part of that team my role is to offer help, advice and assistance whenever it's needed and to stand well back to allow creativity to flow when all is going well.
What is notably different  and what is the same within motion graphics from when you started?
There was no internet, no email, no social media and no Zoom calls. At the time the biggest advancement in technology was the first mobile phones which were the size of a house brick and came with a handbag sized battery pack. So the biggest single change has been the leap in technology, both in the computers we produce our work on and in our communication with clients, which has increased our speed of working enormously.
Sharing ideas is so much quicker and easier now. Research is faster too, you can find out about absolutely anything, whether it's a complicated manufacturing process, or a historical figure. Any picture reference, or image you require is at your fingertips. Previously we would wade through a library of reference books and magazines then traipse off and make colour copies to cut and spray mount onto a physical A2 sized piece of foam board and this was just to make a moodboard, before we even began to visualise a storyboard!
The COVID pandemic has of course changed everything, over the last 14 months. Jump, like many other companies, have been forced to work from home. However, WFH has been the biggest revelation for me. I'm amazed at how successful it has been for the team as individuals, being able to realign their life work balance, but also for the team as professionals. We have  increased our productivity and not only maintained our high standards of output, but improved upon them, while at the same time adding new staff members, with additional skill sets, to the team and managing to maintain our strong company culture.
What do you think has been the secret to Jump's success?
Almost certainly our strong company culture, clients really enjoy working with us and are happy to return, again and again.
Over the years we have had extremely talented staff working with us. Our current team is among the best, if not the best combinations of personalities and skill-sets we've ever had. The Company Directors and staff alike all make every effort to create and maintain Jump's well-known company culture. Based on a collective can-do, likeable attitude, combined with an impressive work-ethic and a commitment to realising an idea/project as best we possibly can, while trying our very best to enjoy ourselves. As such, we try to treat clients like friends. We include them in our design process, we have very open, collaborative, clear, regular and relaxed communications. We always try to fulfill and go beyond their expectations without breaking their budget.
What are your all-time favourite title sequences / pieces of design that were not created by Jump?
The Arena title sequence is my all time favourite. It is an old-school 'in-camara' piece of design using the, potentially dangerous, combination of water and electricity. It is a simple, stylish and meaningful concept – a message in a bottle, beautifully realised. Along with the choice of music "Another Green World" by Brian Eno it's the perfect opening to a programme that would run for many, many years and could cover any subject from art, design, filmmaking to theatre.

My love of the Arena title sequence is one of the reasons I do this for a living. And 25 years on I'm still trying to crack that one perfect idea!
What have been some of your favourite projects to work on … and why?
My favourite projects are always the ones I'm currently working on.
I enjoy it immensely when the Jump team, the client and the idea all 'fit' and everyone is onboard having a great time trying their hardest to make the best possible product that we can.
And I love the fact that since we started 25 years ago Jump's trajectory of work has gone from cutting edge comedy, The Day Today and Brass Eye to mainstream comedy, Smith and Jones (Still one of my favourite Jump title sequences) and Ab Fab, via quiz shows that have had a global impact, Who Wants To Be A Millionaire and Weakest Link to equally huge shiny black floor shows, The X Factor and nearly all the BBC/Lloyd Webber search for a star shows, then on to long running chat shows, Jonathan Ross and all 3 incarnations of the Graham Norton show.
Then sport, working for ITV, BBC and C5 Sport Departments initially, before working directly with FIFA, UEFA , the DFB, the LFP and our current client the AFC and the FMA in Hong Kong. Expanding into other sports Handball, Ice Hockey and Cricket for the EHF, the CHL and the ECB. Not one year is ever the same as the next, and our work and scale of projects, as well as our experience, has grown year on year. And that is what I really enjoy!
How do you feel about having worked in the industry for all these years?
Just before the pandemic we did a project with the lovely people who run the The National Museum of Computing, at Bletchley Park. During a tour of the museum I noticed that the Quantel Paintbox I fell in love with at the BBC, which was the pinnacle of cutting edge technology, was actually an exhibit in their museum! As was the very first Apple Mac we later worked on. At first I was somewhat alarmed that my early career stretched so far back that it has literally become a museum piece. However, I reassure myself with our current work such as a project which is right at the cutting edge of 4K HDR delivery.
So, I like to think that I have a mass of experience combined with a hunger to keep learning, produce innovative new designs and always keep moving forward. Hopefully staying ahead of the game until I myself am put in a museum!